The resolution size of the Sky Watcher 150AR EQ5 PRO Refractor Telescope S11630 will compete up to par with a reflector telescope of up to around 9 inches in diameter on numerous astronomical phenomena. The generous 150mm (6in) of light gathering will deliver breathtaking detail around the solar system. This Sky Watcher telescope is very manageable and easy to transport for backyard observation and remote excursions to view the sky.
The refractors on this telescope by Sky Watcher are manufactured to strict standards of optical and mechanical quality to insure the amateur astronomer peak performance and a great experience every time the telescope is taken out in the field. In a given aperture size, refractor telescopes will always exhibit sharper images than other optical designs because the refractor concentrates more light into the central airy-disk and first diffraction rings. There is no diffraction pattern interference caused by a diagonal mirror, or secondary mirror being suspended in the optical path (central obstruction) as is the case with reflector telescopes. This assures there is absolutely minimal distortion to the optical wavefront.
An unobstructed 150mm aperture refractor on this Sky Watcher Telescope provides a dramatic increase in brightness and resolution over smaller 120mm and 100mm aperture telescopes. Some of the amazing views that you can observe is a whole tour of the moon, the colorful rusty-red sky of Mars and its volcanoes. Beyond the solar system it is possible to hunt down stars like Epsilon Lyrae or even the beautiful double Alberio located in the tail of Cygnus.
The capabilities of the Sky Watcher 150AR EQ5 PRO Refractor Telescope S11630 provide performance estimating a reflector of up to perhaps 9 inches in aperture on lunar, planetary, double-stars, globular star clusters, and depending on the observer's ranking of unobstructed high contrast views as a necessary attribute, even the brighter nebulae and star clusters may look better with this Sky Watcher Refractor Telescope. These objects will stand out in bold relief contrasted against a very dark velvet-black sky background. Many advanced amateur astronomers feel the refractor experience is astronomy's richest.
Specifications for Sky-Watcher 150AR EQ5 PRO Refractor Telescope:
Shipping Weight: 
 92 lbs.
Optical Design: 
 achromatic refractor
Lens Material: 
 Crown and Flint
Aperture(diameter): 
 150mm
Focal Length: 
 1200mm
F-Ratio: 
 F/8
Secondary Mirror Diameter: 
 N/A
Highest Practical Power: 
 354x
Faintest Stellar Magnitude: 
 13.4
Resolving Power: 
 .92 arc sec
Finderscope: 
 8x50 viewfinder
Focuser Diameter: 
 2 inches
Diagonal: 
 2", 1.25" adapter
Eyepiece(s): 
 1.25" Super Plossl 32mm and 10mm
Mount Type: 
 Equatorial
Slow-Motion Control: 
 Computer micro slewing
Counterweight(s): 
 2 x 11 lbs.
Piggyback Bracket: 
 Standard
Accessory Tray: 
 Standard
Ground Board Diameter: 
 N/A
Ground Board Weights(s): 
 N/A
Motor Drive: 
 Micro-step stepper
Go-To: 
 SynScan
Tube Weight: 
 14 lbs.
Tube Dimension(dia. x length): 
 50.5" long
Tripod Height: 
 34" to 48"
Features of Sky Watcher 150AR EQ5 PRO Refractor Telescope S11630:
Unobstructed 150mm aperture refractor provides a dramatic increase in brightness and resolution over smaller 120mm and 100mm aperture telescopes
Provide performance approximating a reflector of up to perhaps 9" in aperture on lunar, planetary, double-stars, and globular star clusters
The optical tube comes with attachment hardware that allows it to be securely fastened to the SW EQ5 PRO mount
The equatorial body is cast from virgin aluminum and powder coated in classic scientific instrument white
Package Contents:
Sky Watcher 150AR EQ5 PRO Refractor Telescope S11630
2 high quality 1.25 inch eyepieces(Super plossl 32mm and 10mm)
8x50 optical viewfinder with bracket, and 2 inch mirror diagonal
---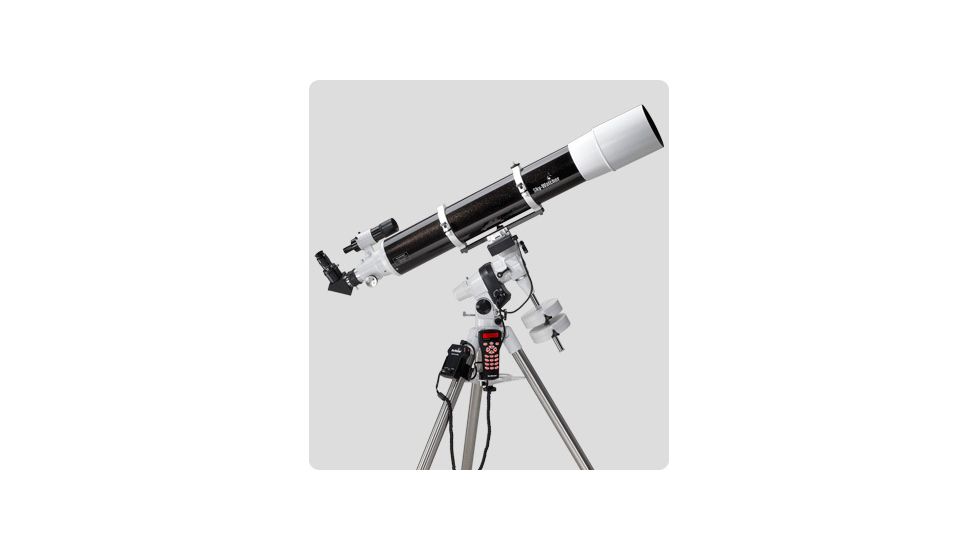 Sky Watcher 150AR EQ5 PRO Refractor Telescope S11630
RATING
91.5 /100
Design

Excellent

Performance

Excellent

Value for money

Excellent

Feature

Excellent