Whether you use binoculars, a spotting scope , a digital camera , or a video camera, the Steady Mount will make hands-free usage a snap. Steady Mounts are ready for you to "Set Your Sites"™, whatever they are, wherever you may be.
Steady Mount Optics Mounting System is the patented combination of ball joints, arms and 3-way pan-head. This allows you to rotate and maneuver the unit in any direction your application may require, thus giving you total flexibility and infinite positioning capability. Because the Steady Mount Mounting System is equipped with a standard 3-way Pan-Head, you can mount any optical or photographic device that has a 1/4-20 threaded receiving insert on its bottom side. That means your spotting scopes , binoculars (with SteadyMount Binoculars Adapter accessory), 35mm camera , digital camera and video cameras too.
Take Steadymount Scope, Camera, Binoculars Mount with you in places you could never use a tripod! Originally developed for use on ATV 's (All Terrain Vehicles)- the Steady Mount System is exceptionally strong. Mount Steadymount Mounting System to ATV, tree stand, deck rail, car door, tripod, and more utilizing its variety of mounting accessories (sold separately). The Steady Mount will also mount directly to any tripod with standard 3/8" threading (as found on most Bogen Tripods ). ATV Steady Mount is the perfect Accessory for anyone using optical and photographic equipment that believes compact versatility is of utmost importance.
Now you can take pictures with your camera; use your binoculars to get a closer look; zero in on a buck with your scope; or videotape the whole thing with both hands free! The Steady Mount is the only Optical and Photographic Mounting Device you will ever need...or want.
All ATV SteadyMounts start with the Steady Mount Basic Package SM-160, and can then be customized by adding additional SteadyMounts Accessories. Steady Mount Basic Package includes SteadyMount Main Unit and Universal Clamping Device. Steady Mount Universal Clamping Device (UCD) allows your Steady Mount to be attached to most any surface and used for most any application. Steady Mount UCD screws into the main ball joint and is adjusted by loosening or tightening its thumbscrew.
Specifications for ATV Steady Mounts :
 SteadyMount Optical Mount:
 Dimensions:
Applications:
 On What:
 To What:

A. Total Extended Length: 25" *
B. Pan Head Length: 7"
C. Lower Arm: 12"
D. Upper Arm: 11.5"
E. Total Weight: 2.5 lbs.

Includes lower base (A)
* Does not include pan head or mounting accessory length.
Does not include mounting accessories.

ATV
Trucks
Jeeps
Military Vehicles
Wheelchairs
Snowmobiles
Mules
Golf Carts
Tree Stands
Hunting Blinds
Shooting Benches
Railings (round or square)
Picnic tables
Benches
Bleachers
Arena Seats
On virtually anything mobile or stationary!

All Hunting
target Shooting
Bird Watching
Safaris
Photography
Videography
Law Enforcement
Military
Surveillance
Wildlife Agencies
Life Guard Stations
Fire Watch Towers
Whale Watching
Sightseeing
Star Gazing
Sporting Events
For virtually any activity you can think of!
Features of Steady Mount Optic Mounting System:
Protected with a durable, black matte, powder-coated finish
SteadyMount arm: 13-guage steel & Aluminum
Stainless Steel ball joints will never rust!
Aluminum Pivot shaft
Folds down to a discreet position when not in use
One Year Manufacturer's Warranty
---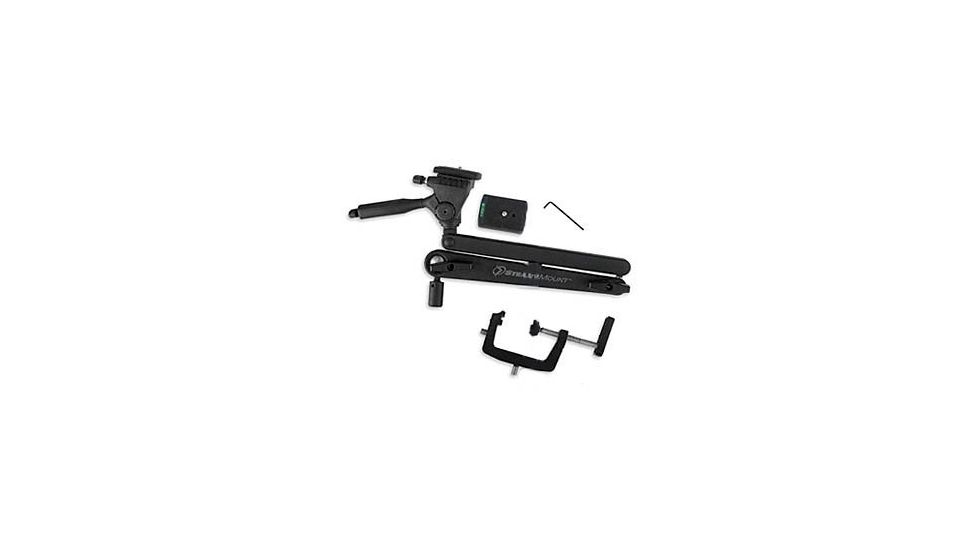 Steady Mount Optics Mounting System - Basic Package SM-160
RATING
88 /100
Design

Excellent

Performance

Excellent

Value for money

Excellent

Feature

Excellent